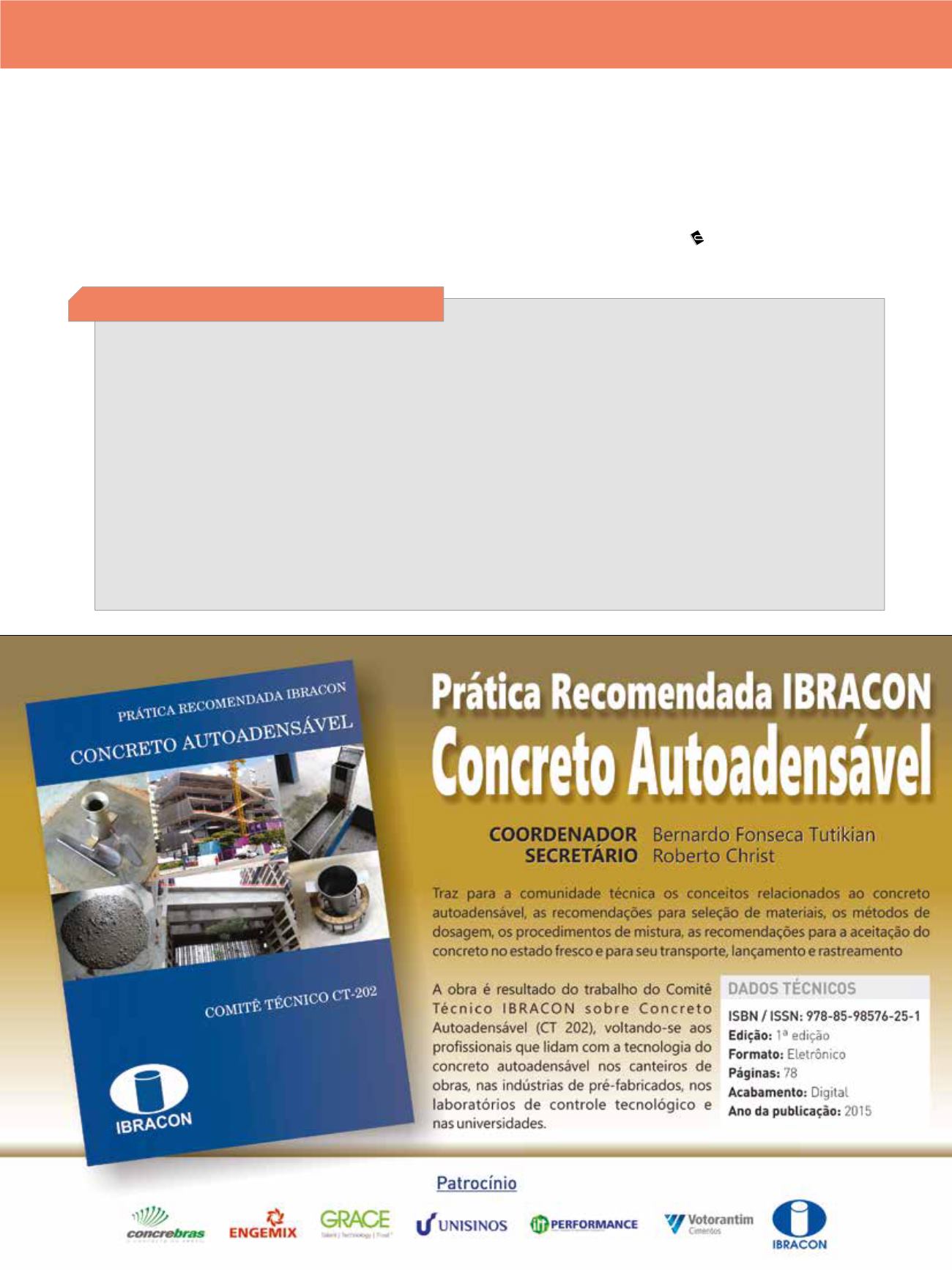 56 | CONCRETO & Construções | Ed. 87 | Jul – Set • 2017
reduzir o comprimento da ligação.
Sua baixa porosidade e permeabi-
lidade aumenta a sua durabilidade,
tornando seu uso apropriado em
estruturas que exigem longa durabi-
lidade e vida útil, com baixa manu-
tenção. Neste trabalho foram mos-
trados alguns casos recentes de
aplicações inovadoras do material,
incluindo: elementos prefabricados
leves, vários casos de vigas de pon-
te, casca pré-moldada como molde
incorporado para pilar de ponte,
que serve como camada protetora
e estética, tabuleiros pré-moldados
de pontes em laje nervurada e vários
tipos de ligações com concretagem
[1] ACI 239 Committee in Ultra-High Performance Concrete, "Minutes of Committee Meeting, October 2012", ACI Conference, Toronto, Ontario, Canada.
[2] Adeeb, S.M., Scholefield, B.W.J., Brown, T.G., Shrive, N.G., Kroman, J., Perry, V.H., and Tadros, G. 2005. Modelling, Testing, and Construction of the
Canopy in the World. Canadian Journal of Civil Engineering, Canada, V.32, n 6, December, 2005, p 1152-1165.
[3] Endicott, W.A. A whole new cast. ASPIRE, Summer 2007, p 26-34.
[4] Murray, P.; Rajlic, B.; Burak, R. Hodder Avenue Underpass – Innovative use of Ultra-High Performance Concrete for Rapid Bridge Construction. Hatch
[5] Parsekian, G. A.; Shrive, N.G. ; Brown, T.G. ; Seibert, P. J. ; Perry, V. ; Boucher, A. Innovative ultra-high performance concrete structures. In: International
FIB Symposium, 2008, Amsterdam. Proceedings do the International FIB Symposium 2008. Londres: Taylor & Francis Group, 2008. v. 1. p. 325-330.
[6] Perry, V. Hodder Avenue Underpass. Canadian Civil Engineer. 2013.
[7] Perry, V.H. 2014. AN EIGHT YEAR REVIEW OF FIELD-CAST UHPC CONNECTIONS FOR PRECAST CONCRETE BRIDGE ELEMENTS & ABC. 9th International
Conference on Short and Medium Span Bridges. Calgary, Alberta, Canada, July 15-18, 2014
[8] Publication No. FHWA-HIF-13-032, Washington, DC, USA, June 2013. "Design Guide for Precast UHPC Waffle Deck Panel System,
[9] Publication No. FHWA-HRT-13-060, Washington, DC, USA, June 2013. "Ultra-High Performance Concrete: A State-of-the-Art Report for the
R E F E R Ê N C I A S B I B L I O G R Á F I C A S